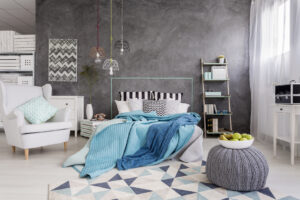 Walk into our carpet store, and you'll see hundreds of samples in all colors, patterns, and styles. There's something for everyone when it comes to this popular floor covering. While it seems overwhelming, the styles can be simplified into three major categories; then, decide according to your needs.
High and low rug pile: why it matters
All carpeting begins the manufacturing process as a looped construction; that is, the fibers are pulled into the backing, sort of like needlepoint or sewing. Then, they are either left as is, cut into piles of various heights. How the loops are treated is the carpet pile, and that is one of the determinants of visual appeal, style, and texture.
Styles
1. Berber: This rug got its name from the weaving style of the Berber tribe of North Africa. Today, it refers to a looped construction with a neutral background and brown or gray flecks or multi-colors. Berbers are stylish and durable, great for heavily-trafficked areas.
2. Shag: This is a high pile rug, often referred to as a "sheepdog rug." Shags now come in an extensive color palette but require a little extra TLC when cleaning. They are best for low traffic floors, like the bedroom.
3. Frieze: The fibers are long, but not as long as the Shag, and they are so tightly twisted, they curl in different directions. They're durable but have a more casual look, so they are best for family rooms and cozy dens.
4. Saxony: This is what most people think of when they hear "carpet." It's a cut pile of medium height. It comes in two versions: Saxony Velvet (or Saxony Plush or Straight Saxony) which has a velvety appearance, or Saxony Texture, sometimes referred to as trackless.
5. Cut and loop. This is as it sounds, and the fibers are used to create patterns, like diamonds or geometrics, or textures such as marble.
Unique flooring solutions, an extensive inventory of quality flooring products, and our service brand have been the cornerstone of Carpeteria for the past 50 years. As a resident of San Jose, Los Altos, Campbell, Santa Clara, Alameda, Palo Alto, San Leandro, Pleasanton, or Dublin, we invite you to visit our showrooms in any of our four locations in the CA Bay Area. You will learn more about carpet flooring and get a free carpet flooring quote.