THE TOP LUXURY VINYL IN THE BAY AREA
SHOP OUR WATERPROOF LUXURY VINYL FLOORING
We carry a large selection of waterproof luxury vinyl flooring from brands you trust.
Your luxury vinyl flooring is closer than you think
Luxury vinyl flooring is an optimal choice for many rooms thanks to its incredible durability and style. Luxury vinyl mimics the look of wood or tile flooring, but is available at a fraction of the cost. Since luxury vinyl is water-resistant and easy to maintain, it is great for rooms such as bathrooms or basements where you cannot use hardwood or carpet. When you visit Carpeteria, you're sure to find options that will work for all your requirements and preferences. Our associates will work alongside you, sharing their experience and dedication to your successful flooring results. Just let us know what you're looking for specifically and leave the rest to us.
Shop our extensive collection of luxury vinyl products. For the areas of San Jose, CA, Los Altos, CA, Campbell, CA, Santa Clara, CA, Alameda, CA, Palo Alto, CA, San Leandro, CA, Pleasanton, CA, and Dublin, CA, our Carpeteria has four Bay Area showrooms in Campbell, Dublin, Los Altos, and San Leandro, and more throughout California. We invite you to visit us to find options that are perfect for your home. When you need the best luxury vinyl flooring for any room, we have just what you need.
Why luxury vinyl flooring is so important
There are few floor coverings like luxury vinyl flooring, which meet extensive requirements all in one product. These floors help create a gorgeous décor match, a durable surface, and an excellent lifespan while still offering affordable options. To find out more about these materials, just read along with us here.
Luxury vinyl flooring for every room
In private areas such as bedrooms and studies, vinyl plank flooring can bring the timeless elegance you've come to expect from the wood and stone appearances, complete with color variation and textures that capture the realism of these materials. It was created to match the same extensive décor options you might find in solid wood or all-natural stone, but with a faster installation and an easy maintenance routine. The choice is well worth your time, especially for trendiness that keeps ongoing.
For more formal areas, luxury vinyl tile, also known as LVT flooring, can bring the classic high-end look of various natural stone and porcelain tile products, adding natural grout lines to the installation. These visuals also match extensive interior design schemes, so they work in many other areas as well. You can even find wood-look tiles that can enhance so many places.
Both options provide the same extensive durability, including scratch, stain, and scuff resistance, but the worthiest durability feature comes from its core layer. Choose wood plastic composite, stone plastic composite, or 100% vinyl for complete waterproof protection, even in floor-like considerations. While they are perfect for basements and laundries, you'll find them just as appealing for every room in your home, offering the same great appearances you've come to expect from this line.
WHY CHOOSE LUXURY VINYL?
Luxury vinyl flooring is a great choice because it is:
Stylish
Comfortable underfoot
Durable
Water-resistant or waterproof
Versatile
Perfect for the whole house
Low-maintenance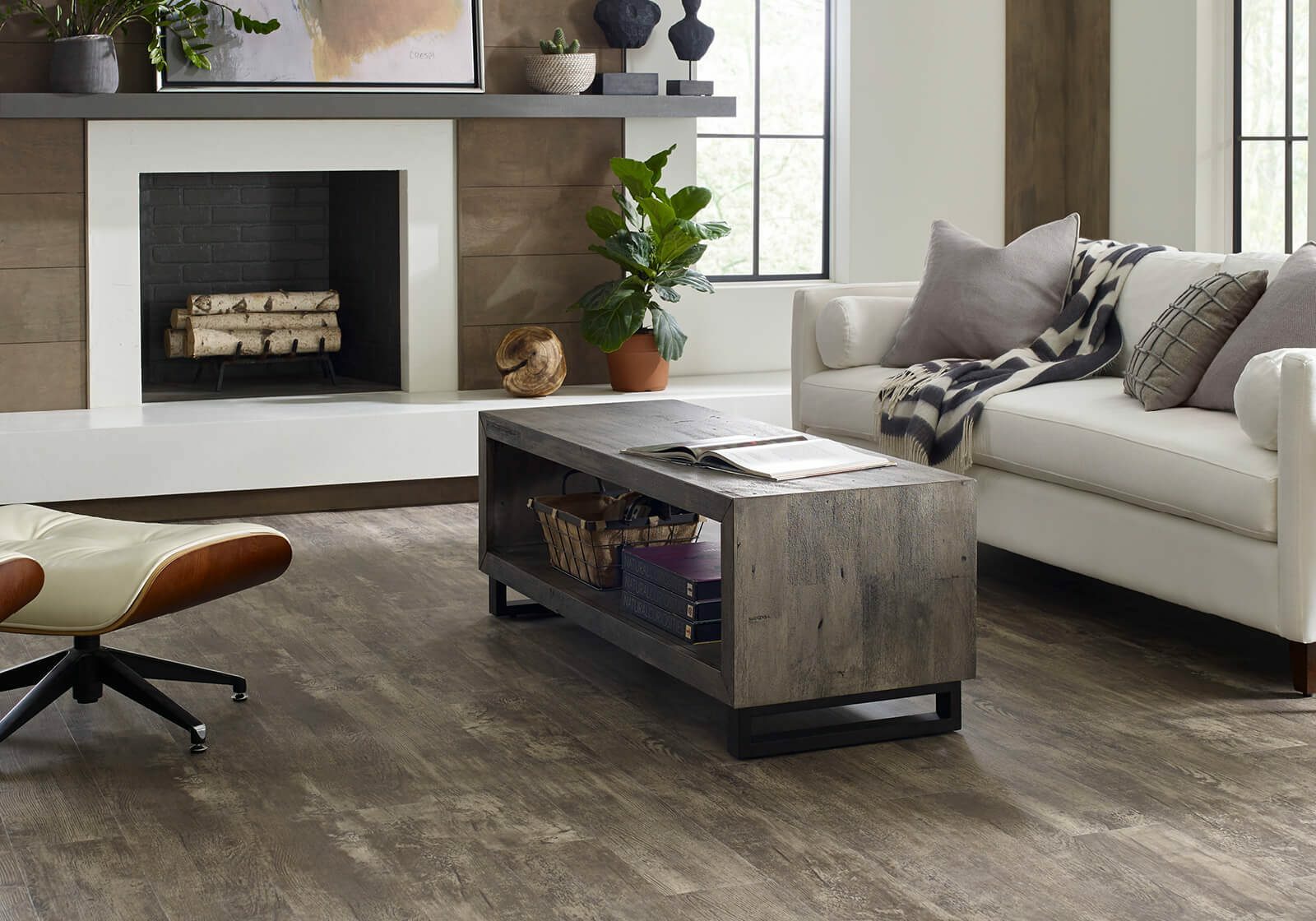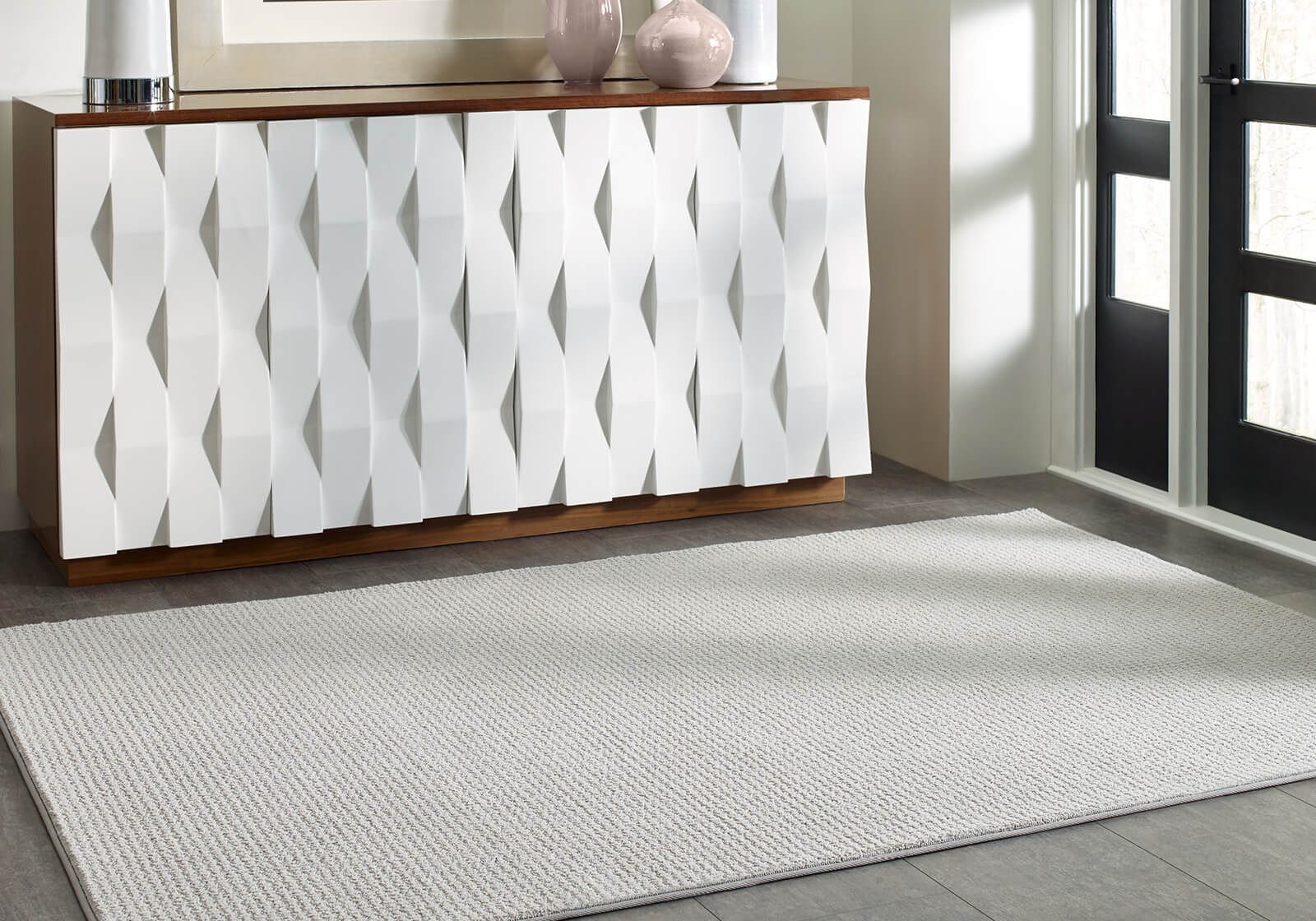 TYPES OF LUXURY VINYL
We carry a large selection of luxury vinyl at Carpeteria. It is available in a large selection of styles, prints, colors, designs, and textures. Plus it is extremely durable and low-maintenance, making luxury vinyl a great choice for your home. We carry luxury vinyl plank (LVP) and luxury vinyl tile (LVT). Which one you choose, depends on your personal style.
Luxury Vinyl Plank  Luxury vinyl plank, or LVP, is made to mimic the look and textures of hardwood flooring. It is available in a variety of colors and plank widths so you can choose the one that best matches your style.
Luxury Vinyl Tile Luxury vinyl tile, or LVT, is crafted to look like genuine tile or stone flooring. It is available in a variety of styles and colors so you can choose the one that best complements your home.
Learn about how to properly care for your luxury vinyl flooring, as well as what to expect during the installation process with our guides.