BEST PRICE GUARANTEE
Shop Carpeteria's huge inventory with confidence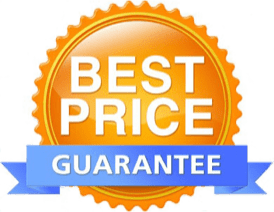 SHOP WITH CONFIDENCE
We believe everyone deserves quality flooring from some of the top manufacturers. We guarantee you will find the best price on your flooring when you shop Carpeteria.
Purchase your carpet from Carpeteria's huge inventory with confidence that you got the best price. For installed orders exceeding $2000.00, if within 15 days of purchase, and no later than 48 hours before installation, you present to us an official typed quote on a competitors* official form**, identifying the manufacturer, style name and number, color name and number, pad and pad specifications, room sizes involved, and price for material, installation charge and any additional fees involved based on actual measurement, Carpeteria will match the competitors' price plus 15% OF THE DIFFERENCE excluding tax.
Carpet must be the exact same style, pile content, weight and density and specified on the form. Hardsurface products must be for identical products from same manufacturer. Installation service should specify labor charges; any additional floor preparations needed and should include any applicable warranties.
*Competitors mean, any established business with a physical showroom and a place of business within the Bay Area; be licensed and bonded by the State of California with the proper Contractor License and insurance coverage. Carpeteria management reserves the right to refuse or deny a written bid if we deem it a fake or a fraud, or if we cannot independently verify the lower price. Competitors do not include Internet companies, with no physical locations in the Bay Area.
** Official form means an actual proposal form or invoice with the competitor's logo, address, and license number.
Offer is valid only on first quality product comparisons and will not apply to clearance, closeouts and remnants and special promotional items. Price Matching cannot be combined with any coupon code discounts or other special offers. Price match applies only to installed purchases and does not apply to material only purchases.
All price match claims have to be decided by Carpeteria Management at the Main Office, and not at the store level. Carpeteria management reserves the right to refuse and deny any bid or estimate from a competitor at our own discretion.